Unpacking: The Forgotten Task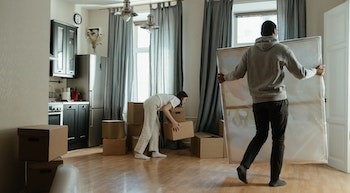 By Julie DeLong, A-1 Freeman Moving Group
Moving to Dallas can be both exciting and tedious! Together with attending to yourself over the move, you can find steps you can take to make unpacking and moving into your new home, more enjoyable.
Because moving is often tedious along with boring, music is a wonderful approach to remain persistent and concentrated. It might even improve your frame of mind so think about having a stereo or even tv set up so you're able to perform to the sound of your chosen music or have a Wireless speaker accessible to hook up with your mobile phone.
Preparing and Organizing Are Still Key
Packing carefully may well substantially cut down on stresses and headaches once you reach your new home. Pack an "essentials" box (or even a few) containing stuff you will need promptly at your new home. This container will comprise of such things as:
· Bathroom towels.
· Toiletries.
· Bed sheets/blankets.
· Essential cooking implements.
· A few glasses, dishes, bowls (alternatively, you could choose to order out or have non-perishable foods to eat on your first night).
This way once you reach the new house in Dallas, you should have all you need to make it through the initial night.
Furthermore, ensure that you label each carton with which room it should go into when it arrives. By doing this you won't have to blindly open boxes unclear about what's inside or sort through a great number of cartons to find something you need.
You can also already have a sense of the location where the furniture is to go. Considering where every piece ought to go ahead of the move could quicken the task and help you to keep organized and committed to the rest of the unpacking.
Office
For those who have a home office, you may have to unpack these things to begin with to stay on top of your business. If you're a work-from-home individual, certainly you'll want to have your office unpacked, sorted out, and functional so you don't fall behind.
Assemble the Household Furniture
Moving day in Dallas can be laborious and you may likely be happy to crawl into your bed that first night. That's why assembling and making your bed(s) is an effective start prior to unpacking boxes.
You won't want to need to do it once you have spent the entire day unpacking cartons and bags as well as organizing. The good news is that if you have hired a professional moving company, they will likely assemble the beds for you.
Unbox the Kitchen
When you have the beds constructed, your kitchen is the most rational place to start unpacking. Since the kitchen is considered the heart of your home, getting the cabinets, cupboards, and kitchen appliances all unpacked and arranged will enable you to shift into your new residence.
For those who have an eat-in kitchen area, you will likely also have a kitchen table which will help you unpack in a more organized way.
Tackle the Bathroom
Once you devote all day unpacking and arranging, you will most probably want to take a shower or dip in a soothing bath. The "essentials" carton will include the toiletries, soaps, shampoos, medications, or any other things that are necessary for the bathroom.
Getting the bathroom and kitchen unpacked can make unpacking your other belongings easier.
Go on to the Bedrooms
Because the household furniture is already in place, the bedrooms should be the next to unbox. If you have packed the bedding in clear plastic bags or containers, it will be easier to recognize which bed linens belong to which bedroom. If you like, write the specific person's bedroom on the box immediately after packing it to make it less difficult.
Unbox the Living and Dining Areas
Hopefully, you will have your pieces of furniture in place which can make unpacking everything else easier. Don't fret with regards to decorative items for example wall-hangings or knick-knackery until all of the necessary things are unpacked.
Non-Essentials
Seasonal things including holiday accents or items that you rarely use might be unpacked last. These items will most likely head to an attic, basement, storage space, or garage.
Just like packing, unpacking is made easier with preparation and organization. Being organized regarding the process can help you to ensure you enjoy your new home as gracefully and swiftly as is feasible.
If you need help with packing or unpacking services, A-1 Freeman Moving Group, your local moving company in Dallas, can help!
Request a free quote